News Service | Filtered by School News
News Feed
Chinese New Year
The Chinese New Year has arrived at King's!
At King's Infant School we like to instil the importance of cultural awareness.
As the Chinese New Year is approaching, we are teaching the children about this exciting celebration.
It's a traditional festival that welcomes the New Year of the Chinese Calender. This festival is commonly referred to as the Spring Festival and is one of the many Lunar New Years in Asia. The New Year will begin on the new moon of the 25th of January and the festival will last for approximately 15 days. According to the Chinese Zodiac, 2020 is the Year of the Rat.
As you can see from the pictures, one of the Nursery classes play area has been turned into a chinese restaurant where the children can be seen experiencing an everyday chinese restaurant environment. They have also had the chance to dress up with clothes usually worn in China and on Monday we will all be coming into school with a red item of clothing to celebrate the New Year as well as many activities including watching a martial arts demostration.
European Space and Astronomy Centre Trip
Year 2 classes were taken to visit the European Space and Astronomy Centre in Madrid, which ties into their new topic, Space. The children were grouped by class and were given a tour of the premises, by an astrophysicist with extensive knowledge about space. She answered the questions that children had written at school, and gave them lots of new and interesting information that even teachers didn't know! Some of them were able to use this knowledge when planning a trip to the moon together in a group research task. The trip crucially reinforced classroom learning, but also stimulated our Year 2s to think beyond the books. The children were amazed by the new things they had learned, and were especially excited when shown a real satellite!
Shopping Trip
Last Monday a group of children from Koala class went for a trip to the shop to buy ingredients for the Nursery cooking area.
We had created our own shopping list after choosing a recipe from our cookery book.
The children loved selecting the food from the shelf and giving the money to the shop keeper.
Next week, a group of children from Starfish class will have the chance to buy food for our next cooking adventure!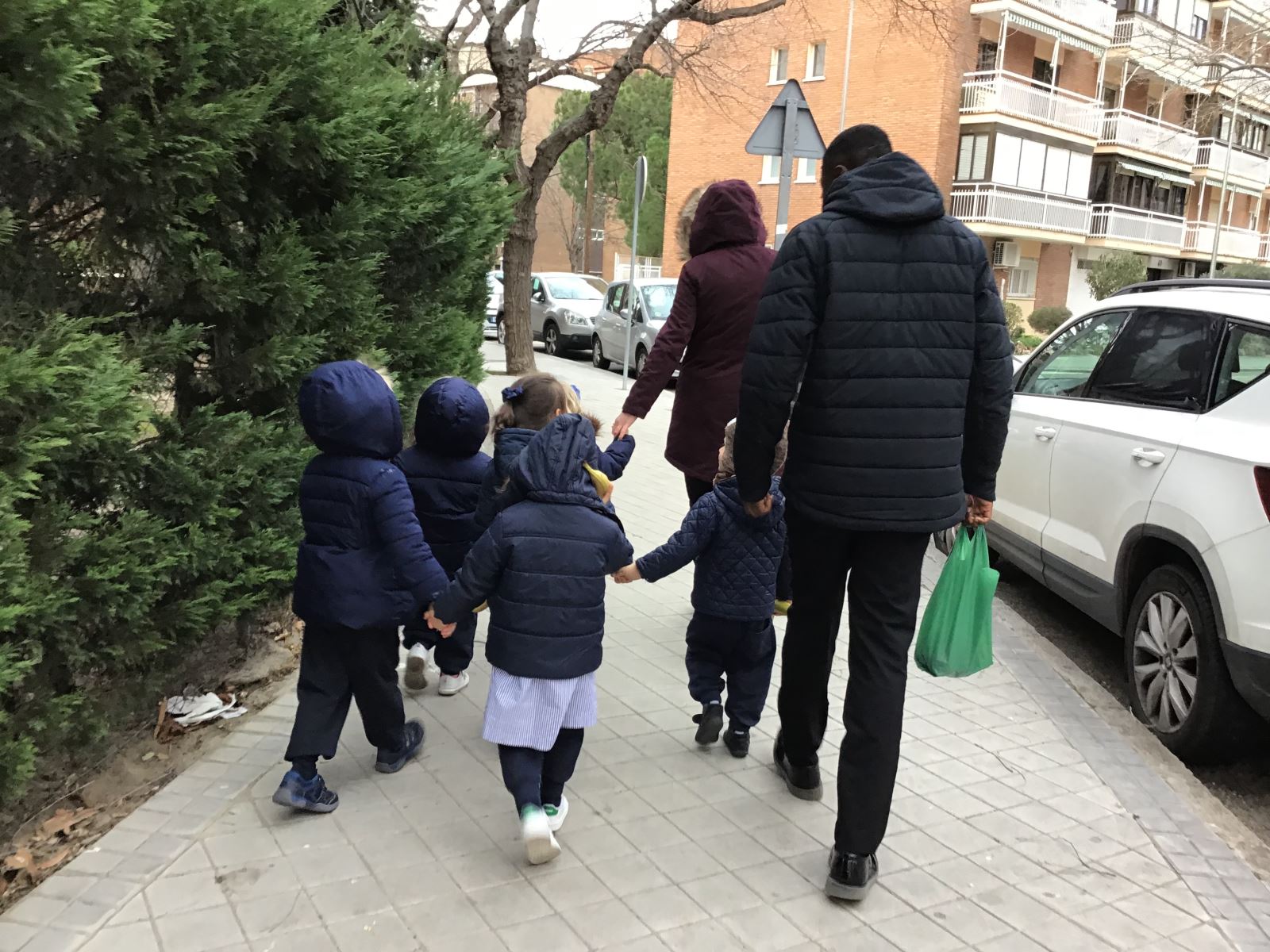 THEATHRE PERFOMANCE
The children from Nursery to Year 2 have had an amazing visit from an English speaking theatre company and experience a wonderful performance in which several plays were involved.
It's also a great opportunity to develop their creative skills as it has an impact on their own imaginative skills and they learn to value the importance of role play as well as how enjoyable it can be to role play in front of an audience.
CHRISTMAS DECORATIONS
This year at King's Infant School we have decided to be more eco-friendly.
As part of our eco-friendly initiative, we came with the idea to used recycled products, as part of making our Christmas decorations more sustainable. Along with the amazing help from all the parents that attended our Christmas workshops from Nursery to Year 2, we have managed to create an amazing Christmas tree, ready to welcome Santa and the lovely presents.
The message we are trying to transmit the children is that even though Christmas is a magical time of the year, it's also the worst period for excess, consumption and waste. In addition, we highlighted that you don't have to spend a great amount of money to appreciate and have a good Christmas tree.
CHRISTMAS STAY AND PLAY PRENURSERY
The children and parents of pre nursery have enjoyed the past two mornings during their festive 'Stay and Play'. Everyone rolled up their sleeves and dug in to the festive activities.
The children created glittery playdough and painted Christmas tree ornaments. They built snowmen in the fake snow and some displayed their Christmas spirit by making a beautiful rhythm with the percussion instruments. Thank you to all the parents that came. It was a pleasure for the team to spend the morning with all of you.
Bake Sale
The children held a cake sale on the 21st November 2019 at 4pm after school.
The sale was planned and organized by by elected EYFS and KS1 childrenschool council members who came up with the concept themselves as a way of raising money for charity. They opened it to all year groups, as well as staff members, parents and siblings. There was a delicious selection of sweet treats available, such as brownies and lemon meringue pie; most of which was freshly made by willing parents. Parent volunteers also assisted with setting up, and helped the children present the food in a way that looked appealing. Overall, the bake sale was a huge success, with many eager customers coming back for more!
They raised 416.90 Euros for the charity 'Toilet twinning' providing families in 3rd world countries access to a basic toilet and clean water. The children also developed some vital skills from the fundraising exercise, such as teamwork, organization, as well as how to lead a basic sale.
Parents also supported our fundraisers with handling change; fostering skills in mental maths. Above all, the children realized how their actions can make a difference, to improve the lives of others who are less fortunate than themselves. The money raised by the children is enough to purchase 2 individual toilets for a village, and a school toilet block!
Odd Socks Day
Odd socks day is part of the Anti-Bullying week with the objective to make it a fun way to encourage the children to express themselves and celebrate their individuality. In addition, it promotes their uniqueness.
The initiative and the message of this celebration is trying to accomplish and raise awareness about bullying and what to do. Understanding it's okay to be different and why you shouldn't feel ashamed by the way you are, by wearing funny socks designed to be a fun and light-hearted way to encourage and to provide the children with the appropriate information and tools they need to bring lasting changes to their lives.
National Pyjama Day
National Pyjama Day has arrived at King's Infant School!
It has been an Anti-Bullying Week and we have decided to join the initiative started by ASEAF (Asosiación Estatal de Acogimiento Familiar), an association with the objective to raise awareness that all children should live in a family.
As well as being an excuse to be in your favourite pyjamas, teddy bears, slippers, dressing gown and all sorts of funky socks to school, it's also an initiative with the objective to raise funds and awareness about children who need our help the most.
By raising awareness and contributing to the cause, we have managed to provide a stable and positive relationship for children in care, and inspired them to chase dreams despite the obstacles and situations they may face.
The one of many ASEAF's objectives are to encourage and promote the figure of foster care, defend the rights of the child received and finally support parents, welcoming people and families and defend their rights.
Music Initiation
For the first time this year pupils in Pre Nursery and Nursery have the opportunity to join the music initiation programme. We have organsied the classes to take place in their daily timetable. The children have really enjoyed the small group activities led by a music specialist. This week they focused on recognising different tiempo: slow and fast; they moved, clapped and played instruments at the different paces. It is wonderful to have a specialist activity for our youngest pupils.
Hello Yellow
As mentioned before, Hello Yellow is the World's Mental Health Day that thousands of school, offices and community groups celebrate to try and promote the importance of mental health awareness.
Having a mental health problem can be a traumatic and isolating experience and King's Infant School is trying to show its support on this special day.
It's objective is to show young people that they're not alone in their battles against their mental health and whatever they're going through to, they can talk to someone.
This cause is celebrated by the charity Young Mind hoping to inspire more than 10,000 mental health messages through drawings, advice and inspirational quotes and also raise thousands of pounds to support its work in a way that's suitable for both adults and children.
We have showed our support by teaching the children the importance to speak up, how to look after themselves with practical strategies. We showed them that the colour yellow is a happy colour and that they need to spend time thinking about things that make them happy. It is important to make time to do things that make them feel happy and not feel ashamed to speak up if they are not feeling ok.